Live Streams each Sunday at 10:30
You are invited to attend the services each Sunday.  For those who prefer to watch the service at home, it will be live streamed at 10:30 a.m. on Sunday, and will be posted to the YouTube channel for future viewing.
We appreciate your feedback and patience while we are working on the live stream process. We have also appreciated the positive comments.
COVID-19 Policy November 21st, 2021
The Annesley Board has consulted with members of the congregation, other United churches in the area and around Ontario, contacts with Western Ontario Waterways & Shining Waters Regional Councils, and the Grey Bruce Health Unit to make a decision concerning requirements for COVID-19 vaccinations to attend services and events in the Annesley building. It has been decided that beginning on November 21st, until further notice, we will require verification of full (double) vaccination to attend any services and events in the building. Many people advised that they were reluctant to attend unless this policy was adopted. We hope to continue to meet the spiritual needs of anyone who cannot attend, for any reason, through our live stream and recorded services. We recognize the positive and negative impacts this policy will have on various people, and do not want to exclude anyone, especially anyone who needs Pastoral Care. Please advise if Pastoral Care is needed no matter what your vaccination status may be. We will revisit this decision in the spring of 2022, at our Annual Congregational meeting to be held in April 2022.
Announcements
Annesley Quilt Makers – November 17th
The Annesley Quiltmakers will be getting together THIS WEDNESDAY (November 17th) at 9:30 am. We need people who can bring their sewing machines and sew, people to layer and pin quilts together and people to tie them. We welcome newcomers to our group.
Things will be a little different from before:
1. We ask that participants be double vaccinated.
2. We ask that you wear a mask and social distance while you are in the building.
3. In order to avoid sharing food, please bring your own snack or lunch. We will provide tea and coffee.
We look forward to seeing everyone and having a fun day together again!


Christmas Baskets
The Christmas Basket Committee will be collecting donations of food items in November and December for the Christmas baskets. A list of requested items:
Canned Goods
Peanut Butter & Jam
Pasta & Sauce
Pancake Mix & Syrup
Salmon & Tuna
Coffee, tea & hot chocolate
Canned vegetables, beans.
Donations will be accepted until December 10th, as the baskets will be packed on December 16th and delivered on December 17th. Cash or gift cards would be happily accepted. Your help will be greatly appreciated for this important Annesley outreach.
FundScrip – The next Order date is NEXT Sunday (November 21st)
November promotions include: Winners/Homesense/Marshalls (8%), GAP/Old Navy/Banana Republic (9%), Roots (15%!) Kernels (10%), Rona/Lowes (5%), Shell (3%) Giant Tiger (5%), Metro (3%), Staples (4%), Boston Pizza (10%), Ultimate Dining Card (10%)
On behalf of the Membership and Outreach Committee, we would like to thank individuals, families and businesses who donated auction items, trucks, time and muscle for pickups; the many volunteers for their time in cataloguing and photography; staging and labelling items; as well as assisting with the auction preview and pick-up of items purchased. Thank you also to those who purchased items from the auction. These efforts resulted in total proceeds of $10,100! Thank you. Dale and Diane
In the Library
'Thriving churches in the twenty-first century – 10 life giving systems for vibrant ministry' Gary McIntosh & Daniel Reeves As churches position themselves for healthy, growing ministry, pastors and church leaders must understand the changes that affect the church. "But more importantly ", Gary McIntosh and Daniel Reeves write, "churches need to focus on being intentional in how they respond." Using the analogy of the human body, Thriving churches in the twenty-first century explores the ten interacting systems that make up a healthy body. If working together, these life-giving systems, which include spiritual energy, mentoring and intentional evangelism, will help your church experience lasting spiritual growth and robust ministry.
Our library is a valuable resource. Keep it viable by using it.
Newsletter
A November Newsletter is being planned. Submit anything that you wish to have included to the church office by November 22nd. Annesley's Summer Newsletter is here: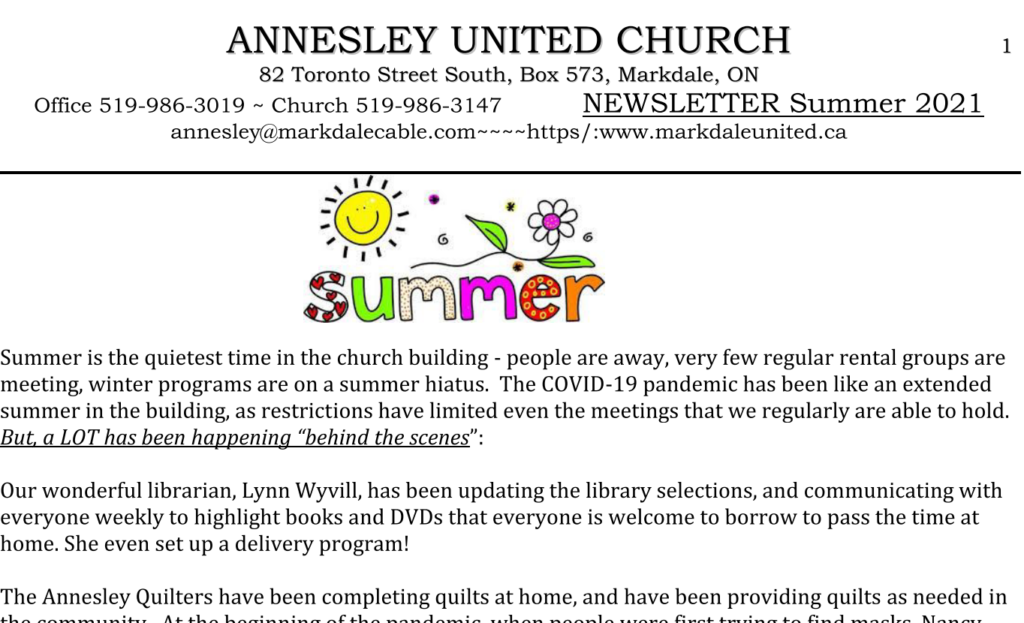 Prayer Shawl Ministry
The Prayer Shawl Ministry is an important part of Annesley's outreach. Warm and cozy shawls are given to those of the congregation and community who are bereaved or seriously ill. The appropriate yarn must be purchased. If you would like to help, put your donation in an envelope marked Prayer Shawl and your name and send it to the church office. If you know anyone in the community who would benefit from receiving a prayer shawl, please contact the Church office at 519-986-3019
Centering Prayer
Centering Prayer has moved to Fridays at 2:00 p.m. in Fellowship Hall at Annesley. Everyone is welcome.