Invitation: Church Service October 17th
On Sunday, October 17th, at 10:30 a.m., we will be holding a church service in the Annesley Sanctuary! The service will be led by the Annesley Board Members, with help from Rev. Kathy Underwood. COVID-19 protocols will be in place: (hand sanitizer, sign-in, distanced seating etc.), and we will direct traffic in and out of the Sanctuary through separate doors. We are working on a COVID-19 vaccination policy to align with Provincial and United Church recommendations. We encourage our members to be vaccinated to protect our employees and congregation. If you cannot attend the service in person, it will be live streamed and posted to our YouTube channel and a recording of it will be put on our website.
After the service, there will be no coffee hour, but we would like those attending to stay for a visioning meeting to discuss the options for Annesley United Church in the future. The Search committee has worked for over 3 years and they have decided that it is time for new people to take over the task. We are only one of 240+ United Church congregations in Canada who are looking for a minister, and there are very few ministers available, especially for rural congregations. The time has come to start a discussion about alternatives. There are a few options to choose from, and we want to see what the commitment level of the congregation is, and who is willing to help make the choices that need to be made for our future in the community.
ONLINE AUCTION – Pickup day is September 25th
Thank you to everyone who donated, helped, or bid on Annesley's September 23rd ONLINE AUCTION It was another great success! Pick up is scheduled for Saturday, Sept. 25th between 9:00 – 5:00 p. m. from the church. NOTE: Large, heavy items are requested to be picked up after 2pm and Please bring your own muscle/help.
Annesley United Church is located at 82 Toronto St (HWY 10), Markdale, ON. Parking is on the street or in the South East Grey Community Centre's parking lot.
The Annesley Community is fundraising in order to support and continue a variety of Outreach commitments including those directed by Mission and Services as well as the Christmas Hamper Program etc.COVID has restricted some of the programs but we look forward to returning to full capacity soon.
The Annesley Church Office
The office will be closed from Tuesday, September 28th to Monday, October 11th, for vacation. E-mails and phone messages will be checked often, so feel free to leave messages.

In the Library
Gentle Discipline Using Emotional Connection – Not Punishment – to Raise Confident, Capable Kids by Sarah Ockwell-Smith Filled with research-based solutions to try today, this guide helps parents of toddlers as well as older children embrace a new, more enlightened way to help kids listen, learn and grow.
Our library is a valuable resource. Keep it viable by using it.
Summer Newsletter
Annesley's Summer Newsletter is here: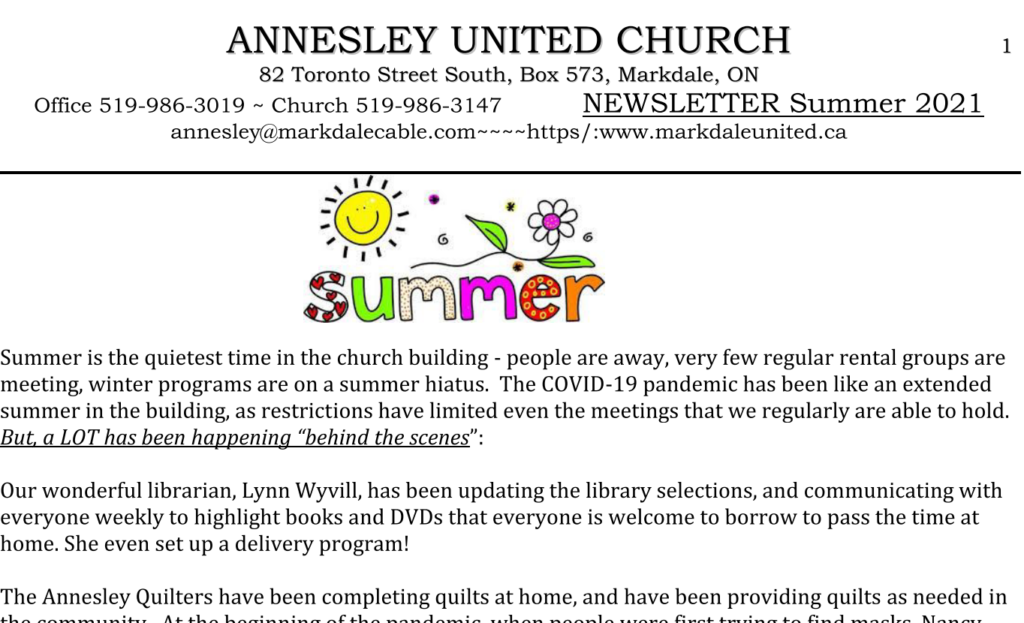 Prayer Shawl Ministry
The Prayer Shawl Ministry is an important part of Annesley's outreach. Warm and cozy shawls are given to those of the congregation and community who are bereaved or seriously ill. The appropriate yarn must be purchased. If you would like to help, put your donation in an envelope marked Prayer Shawl and your name and send it to the church office. If you know anyone in the community who would benefit from receiving a prayer shawl, please contact Jean at 519-986-2702
Centering Prayer
You are invited to join with the individuals of the Centering Prayer Group on Monday afternoons at 2 p.m. There are no rules. There is no need for preparation. And no signup is required. Only a willingness to rest in a time of quiet, that is shared with others. While we miss meeting in person during these dark times, we welcome everyone in a warm invitation to join us "in the spirit".
Reusable Cloth Masks
Nancy Edwards has sewn and provided several reusable (washable) masks, to be given to anyone who needs a mask. There are two sizes: Adult (14+), and Children's (4-12). If you need masks, you are welcome to come to the church office to get them. She also has a pattern and some elastic available, if anyone is interested in sewing some. Thank you, Nancy!
*NOTE : If you got your mask at Annesley and you want to convert it into a 3-layer mask, there is an opening in the seam on the inside of the mask. You can insert an extra piece of cloth or coffee filter. Remove the coffee filter before washing and replace with a new one.